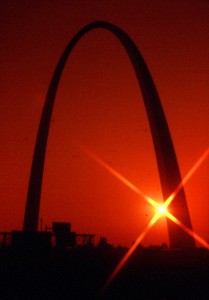 St. Louis and Missouri has some of all around greatest locations. We have just about everything to choose from, and even things you can't find anywhere else in the world…like the Arch, Anheuser-Busch Brewery, Ted Drewes and much, much more.  Also just within a 200 mile radius of St. Louis there are other great Midwestern Towns such as Springfield, Branson, Hannibal, St. Charles, Kansas City, Quincy, Peoria, Evansville, they all create some awesome one of a kind backdrops for your production.
St. Louis Attractions
St. Louis has a lot of attractions to keep you amazed.  After you go see the St Louis Arch and still have some time on your hands, a few places you still have to go see are the… Saint Louis Zoo, the Missouri Botanical Garden, The Jewel Box, The Magic House, and Grant's Farm.  St. Louis is also home to numerous art festivals, galleries and art museums…including: the St. Louis Art Museum, the Contemporary Art Museum, and the Kodner Fine Art Gallery.  Visit Historic Kimswick (10 minutes south on Highway 55) where you can find almost anything you wanted to know about the great Midwest.  Experience historic St. Louis by visiting The Jefferson National Expansion Memorial & Old Court House where the Dred Scott decision was determined.  More fun stuff includes the St. Louis Science Center Home of the OMNIMAX Theater.  The Daniel Boone Home Home of the legendary hero Daniel Boone, built overlooking the Femme Osage Valley.  The Missouri History Museum featuring Missouri history, from it's founding in 1764, to the Spirit of St. Louis, the 1904 World's Fair, Miles Davis, and the St. Louis Cardinals.  The Cahokia Mounds State Historic Site original home of the largest prehistoric Indian city north of Mexico.
St. Louis Sports and Recreation
Many declare St. Louis to be the greatest sports town in America due to their loyal fans, the consistent success of their professional sports teams, and the sports venues it host. St. Louis was home to the NCAA Men's Basketball Final Four, the NCAA Men's Wrestling Championships and the PGA U.S. Senior Open. St. Louis' professional sports teams include the St. Louis Cardinals and the St. Louis Blues.  For a little exercise, visit Forest Park Home of the 1904 St. Louis World's Fair, and one of the largest urban parks in the United States. At 1,293 acres, it is approximately 500 acres larger than Central Park in New York.  Or see Jefferson Barracks Historic Park home of our national cemetery and visit the Civil War museum.  An Educational Learning Center Dedicated to the Preservation and Study of Missouri and its Involvement in the American Civil War.  There is also a great bike trail named for General U. S. Grant, Grant's Trail Hiking & Biking Trail.  Let your imagination run wild at City Museum in downtown.  Don't forget the The Dark Room at the Grandel, it's the JAZZ bomb for live music.  If you want a fine cigar and cognac or a single malt visit the Stanley Cigar Bar on Washington ave.
St. Louis Shopping
Did you say shopping? There are some really unique shops around our town. Let's say you need some shoes at the next shoot or you need a ring for your girl, or maybe you just want to check a few places out. Here is where to go…Plaza Frontenac, South County Center or West County Center.  A special jeweler we like is Neustaedters Jewelry.
St. Louis Restaurants
Wow do we have some great restaurants on The Hill, in Clayton, and as well as Downtown-St. Louis.  Maybe you want some good home Bar-B-Q like Bandanas or  maybe just give me a big ole pizza from Imos Pizza.  For a great steak and a fine wine, visit my fav Sam's Steakhouse in south county.  Perhaps a nice oatmeal stout or seasonally handcrafted brew with your dining can be had at Schlafly's Taproom, downtown or their BottleWorks in Maplewood.
St. Louis Nightlife
Night time is fun time, when the sun goes down. Whether it is a concert at the The Pageant or the Fox Theatre, there is always something to do in St. Louis.  If a casino is what you want, HorseShoe, Ameristar or Hollywood Casino might float your boat. Maybe you just want a beer at a local Pub in the Soulard Area, (McGurks,or Tucker's Place) host the second largest Mardi Gras festival in the United States, or a drink in The Loop at Blueberry Hill or a Cocktail in Ladue. Maybe it is a nightclub you hanker for, on Washington district you have Lacledes Landing or visit the Central West End.
For the night owl, go sip, see and savor the 360 rooftop bar downtown.  For a late, late night, visit Laclede's Landing or go right across the Mississippi River to East St. Louis – home to Pops, The OZ Nightclub and numerous gentlemen's clubs.
St. Louis Hotels
So you need a place to stay… here are few ideas. If you like a nice place downtown I would stay at the Ball Park Hilton or Union Station or the Chase Park Plaza. Some other nice places around near Clayton are the Ritz-Carlton .  If in Chesterfield visit the Drury Plaza.
St. Louis Transportation
Getting around St. Louis, some would say it is a challenge. You just need to know where you are going and how you will get there. First when you fly into Lambert International, you need to get a limo from Best, or a taxi from County Cab or rent a vehicle through Enterprise Rental or Avis or simply get on a MetroLink Train.
St. Louis Video and Photography Production Guide
Let's get your production started right in St. Louis…a good way, is to connect you with a production coordinator like Haller Concepts or the Topping Group. Maybe you need a production studio like St Louis Video Production or a Commercial Photographer.  We also recommend St Louis Drones and St Louis Creative Services.
Visit St. Louis, MO
If you are not from St. Louis, MO but would like to visit, click here for the Official Travel Website of Saint Louis, Missouri or here for the St. Louis, MO Convention & Visitors Commission Website. Other St. Louis organizations that can help initiate your stay include RCGA, St. Louis Magazine and the St. Louis Post Dispatch NewsPaper.  Not seeing something you need?  Email or call me, I'm Mr. St. Louis and I can steer you in the right direction, mikeh@hallerconcepts.com 314-913-5626.